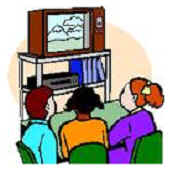 When we lose the mental picture of the food, we lose the cravings. And when we see ourselves in a behavior, that image compels us to generate that behavior.
Remember Part B where the television caused the mind to flash an image of food, and the image of the food caused the person to feel cravings?

After watching Neuro-VISION, when a person sees the television, his/her mind will show him/her a movie of him/herself watching TV with a thin body, but without any food in the picture!